Wine-Balsamic Glazed Steak
Treat yourself to a quick, bistro-quality entree. Williamson's 2013 Cabernet Sauvignon is fantastic in this glaze because the cherry notes of the wine are intensified by the bright acidity from the balsamic vinegar. By sauteing the mushrooms in honey and soy sauce you are boosting the umami flavors of this dish. This is a simple and elegant meal that will impress your friends and family.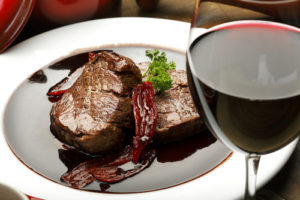 Ingredients:
2 tsp. cooking oil
1 lb. boneless beef top loin or top sirloin, cut 1/2 to 3/4 inch thick
3 cloves  garlic, minced
1/8 tsp. crushed red pepper
3/4 cup red wine (like our Cabernet Sauvignon)
2 cups sliced fresh mushrooms
3 tbsp. balsamic vinegar
2 tbsp. soy sauce
4 tsp. honey
2 tbsp. butter
In a large skillet, heat oil over medium-heavy heat until very hot. Add steak(s). Do not add any liquid and do not cover the skillet. Reduce heat to medium and cook for 10 to 13 minutes, depending on how rare/well you like your steak, turning meat occasionally. (145°F for medium-rare or 160°F for medium-well.) Transfer meat to platter; keep warm.
Heat cooking oil in a medium skillet. Add garlic and crushed red pepper; cook for 10 seconds. Remove skillet from heat. Carefully add wine to de-glaze the pan. Return to heat. Simmer the wine uncovered, about 5 minutes, or until it's reduced. Add mushrooms, vinegar, soy sauce, and honey: return to simmer. Cook and stir about 4 minutes or until mushroom are tender. Stir in butter until melted. Spoon over steak. Makes 4 servings. Start to finish: 30 min.